MPickIt Lottery Number Picker - Professional Version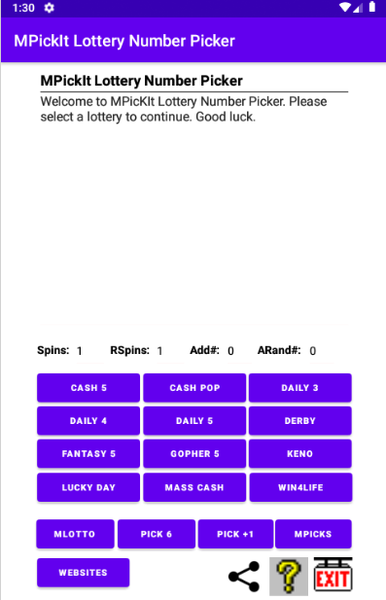 Main
-
Use Main to pick Cash 5, Cash Pop, Daily 3, Daily 4, Daily
California Daily Derby
, Fantasy 5, Gopher 5, keno, Lucky Day, Mass Cash, Win For Life
Motto -
The MPickIt Lottery Game.
Pick 6
-
Use Pick 6 for Pick 6 Lotteries. Picks 6 lotteries numbers.
Pick +1
-
Use Pick +1 to pick lotteries numbers for lotteries that pick 5 plus 1 or pick 4 plus 1.
MPicks
-
Use MPicks to pick lottery numbers for lotteries not listed
.
---
Other:
Websites
-
Use
to access State Lottery websites.

- Use to share picks. You can send the picks to your email to save for latter

-
Use
to access MPickIt Lottery Number Picker Help.

- Use to exit the MPickIt Lottery Number Picker.
---